Each year the Wayne Morse Center for Law and Politics hosts two UO faculty members as Resident Scholars. Resident Scholars work with the Wayne Morse Center Faculty Codirector and Senior Scholar to conduct research or other professional activities that contribute to the scholar's own work and the Wayne Morse Center's programs. The Resident Scholar program is open to tenured and tenure-track faculty at the UO. Resident Scholars receive stipends that can be used in a number of ways, depending on the desires of the Resident Scholar and his or her department or school.
The application deadline for 2023-24 has passed. Application information for the 2024-25 academic year, and a link to the online application form, will be available in Fall 2023.
2022-23 Resident Scholar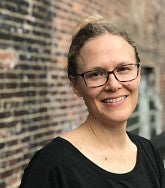 Annelise Heinz
Annelise Heinz is a historian of modern America whose research focuses on the intersections of gender, race/ethnicity, and sexuality. As the 2022-23 Wayne Morse Resident Scholar, she will be working on a project titled "Collective: How Lesbian Feminists Reimagined Society," which examines the subculture of "lesbian feminists" who created dense community networks across North America in the 1970s and 80s.
Past Resident Scholars
Making Work Work (2021-22)
Maria Fernanda Escallón
Claire Herbert
Science, Policy and the Public (2019-21)
Leah Lowthorp
Arafaat Valiani
Krista McGuire
Leigh Johnson
Borders, Migration and Belonging (2017-19)
Laura Pulido
Julie Weise
Angela Joya
Erin Beck
The Future of Public Education (2015-17)
Charise Cheney
Michael Musheno
Erik Girvan
Jerry Rosiek 
Media and Democracy (2013-15)
Carrie Leonetti
Gabriela Martinez
Colin Koopman
Eric Priest
Capitalism and the Common Good (2011-13)
Stuart Chinn
Joseph Lowndes
Michael Fakhri
Katie Meehan
Climate Ethics and Climate Equity (2009-2011)
Richard Hildreth
Allison Carruth
Derrick Hindery
Adell Amos
Ted Toadvine
Democracy and Citizenship (2007-09)
Daniel HoSang
Michelle McKinley
Garrett Epps
Gordon Lafer
Indigenous Peoples: National Policy and International Human Rights (2005-07)
Mary Wood
Rennard Strickland
Brian Klopotek
The Changing Geopolitical Order (2003-05)
Ibrahim Gassama
Lynn Fujiwara
Keith Aoki
Lise Nelson
Race, Class and the Criminal Justice System (2001-03)
Merle Weiner