Making Work Work
Join us in exploring the social and economic organization of work and its transformation, with a focus on vulnerable workers and an eye toward policy changes that better protect individuals and families. 
Areas of focus
Carework and the potential for building a care policy infrastructure
Protecting workers as businesses push toward gig work and on-demand scheduling
New directions for the labor movement, worker voice, and worker activism in unexpected places 
How the increasing number of immigrants, women, and people of color in low-wage and precarious jobs can be better represented and heard
For more background information about this theme, check out our resource list, which will point you to relevant podcasts, books, articles, and organizations. 
Events
Building the Future: Policies for a Gender-Equitable Recovery
5:00 p.m.

---
This event is subject to UO COVID guidelines; refer to the UO COVID-19 Resource page for more details. Please register for this event to be notified of any event...
October 19 5:00 p.m.–6:30 p.m.
Straub Hall, 156
This event is subject to UO COVID guidelines; refer to the UO COVID-19 Resource page for more details. Please register for this event to be notified of any event changes.

Recently named one of the World's 50 Greatest Leaders by Fortune Magazine, C. Nicole Mason is the president and chief executive officer of the Institute for Women's Policy Research (IWPR).

For the past two decades, Mason has spearheaded research on issues relating to economic security, poverty, women's issues, and entitlement reforms; policy formation and political participation among women, communities of color; and racial equity. Prior to IWPR, Mason was the executive director of the Women of Color Policy Network at New York University's Robert F. Wagner Graduate School of Public Service.

At the start of the pandemic, she coined the term she-cession to describe the disproportionate impact of the employment and income losses on women. Mason is the author of Born Bright: A Young Girl's Journey from Nothing to Something in America (St. Martin's Press) and has written hundreds of articles on women, poverty, and economic security.

This event is the annual lecture for the Wayne Morse Center's Margaret Hallock Program for Women's Rights and is part of the Wayne Morse Center's 2021-23 theme, Making Work Work. It is also part of the University of Oregon's African American Workshop and Lecture Series, which is sponsored by the Office of the President and coordinated by the Division of Equity and Inclusion. Cosponsored by the Center for the Study of Women in Society.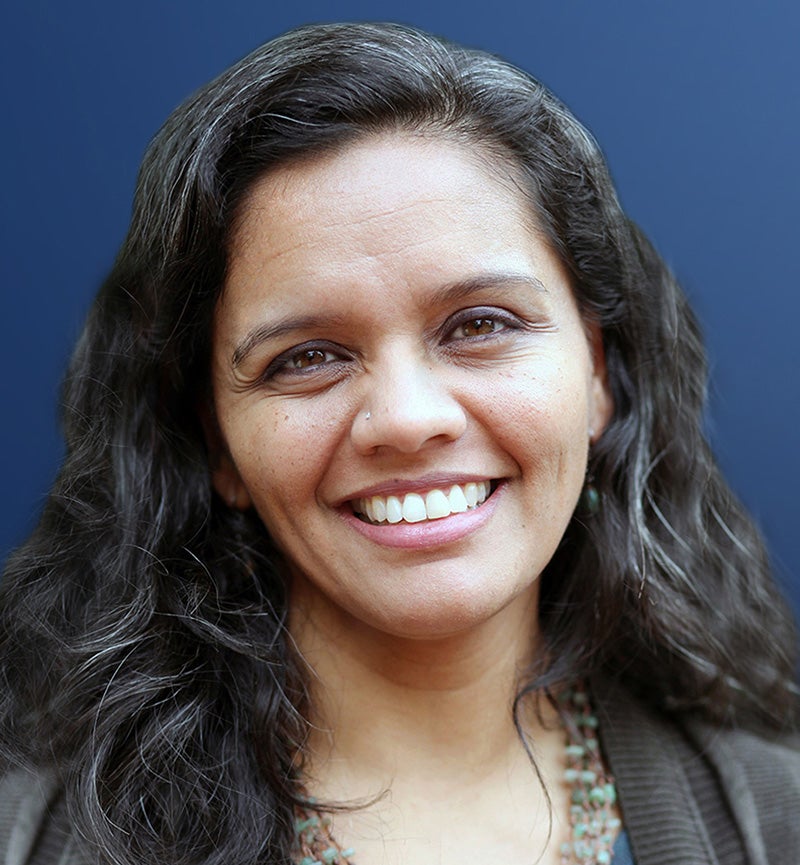 Sarita Gupta
2021-22 Wayne Morse Chair 
Sarita Gupta directs the Future of Work(ers) Program at the Ford Foundation. Gupta joined the Ford Foundation in 2019 with more than 20 years of experience working to expand people's ability to come together to improve their workplaces, their communities, and their lives by creating solutions to the problems they face. She has deep expertise in policy advocacy, organizing, and building partnerships across the workers' rights and care movements, having served as the executive director of Jobs With Justice and codirector of Caring Across Generations. She is a nationally recognized expert on the economic, labor, and political issues affecting working people, and is widely acknowledged as a key leader and strategist in the progressive movement.
2021-22 Resident Scholars and Graduate Research Fellows
2021-22 Project Grants
Eugene Weekly
Eugene Weekly will publish a year-long series exploring the labor movement in Oregon during a global pandemic, including consequential unionization efforts, legislative action related to working Oregonians, and challenges that the labor movement may experience. The series will cap with a cover feature and a public forum.
Family Forward Oregon
FFO will incorporate the voices of impacted caregivers and child care providers, along with voices from the Child Care for Oregon coalition, into strategic, coordinated advocacy for short and long-term policy solutions to Oregon's child care crisis. The coalition will also assess progress in the 2021 Oregon legislative session and work to create care policy infrastructure proposals before the 2022 legislative session.
KLCC Public Radio Foundation
KLCC will produce a documentary series featuring stories with people of color and / or people from marginalized communities whose jobs have been transformed due to recent social and economic changes. Each feature will probe into the broader local, state and federal policies surrounding each person's particular situation and/or industry. The project will culminate with a special one-hour program that will highlight a major issue of "Making Work Work" revealed while producing the series.
Northwest Workers' Justice Project
NWJP will join with Voz Workers' Rights Education Project to launch a wage-theft legal clinic in Portland. It seeks to give low-wage, immigrant workers in precarious work the resources and support to have the agency, power, and leadership in the resolution of their own workplace disputes.
UO Sociology Department
Working with in-home, extended-hour child care providers; workers with irregular and unpredictable schedules; and policy advocates, researchers will examine how policy could support these workers who need child care, culminating with a series of briefs on Oregon child care policy. Findings and briefs will be publicized through existing networks, including the national Scholars Strategy Network.