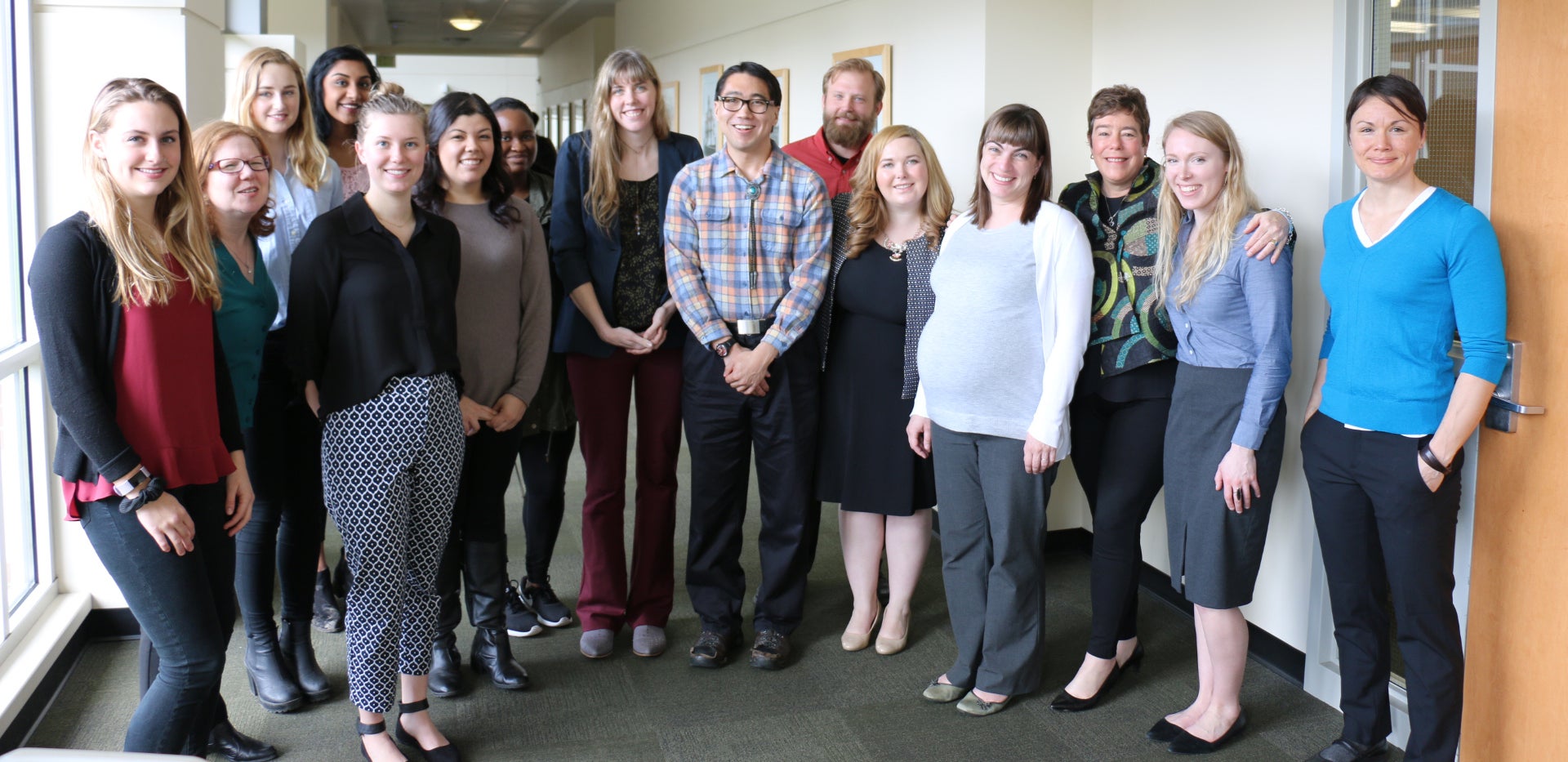 Wayne Morse Law Fellows are a small group of outstanding UO law students who have demonstrated a commitment to serve the public interest. Some have done grassroots work on civil rights and the environment, others have served as staff for nonprofits, government entities, or elected officials, others have volunteered on political campaigns or worked for their tribe. All have a commitment to change the world for the better. The Wayne Morse Center for Law and Politics, which is housed in the UO School of Law, provides an opportunity for these leaders and emerging leaders to meet, share ideas, receive mentoring, and occasionally share a meal with an elected or appointed official or activist. Past guests include Governor Kate Brown, Oregon Supreme Court Justice Martha Walters, director of the Congressional Budget Office Keith Hall, and Pulitzer Prize-winning immigrant rights advocate Jose Antonio Vargas. Law Fellows are expected to volunteer twice per semester at a public lecture or conference hosted by the Wayne Morse Center.
Law Fellows are considered a part of the Wayne Morse Center family while in law school and after they graduate. Alums are invited to Fellows lunches and other special events. Sometimes they are invited back to Eugene to serve as speakers and mentors.
The Law Fellows program has changed as the needs of law students and the UO School of Law have changed. It began in 2000 as an academic year program that provided tuition assistance to Fellows. Currently, the program provides paid summer fellowships in Washington, D.C. and Salem.
The Wayne Morse Law Fellows program is competitive, with applications for fellowships due in January of each year.
2020-21 Wayne Morse Law Fellows
We are pleased to announce our 2020-21 Law Fellows. They will serve in paid fellowships during the summer and then participate in the life of the Wayne Morse Center during the academic year. A big thanks to the Wayne Morse Circle Members who make this program possible!
Hilary Therien—Office of U.S. Senator Ron Wyden (UO Law '74), Washington, D.C.
Megan Sweeney— U.S. House Committee on Energy and Commerce, Washington, D.C.
Sarah Davies Breen—Human Rights Fellowship with the UN Special Rapporteur on the Right to Food.
Jess Butt—Office of the Director, Oregon Department of Fish and Wildlife, Salem
Vanessa Jackson—Wayne Morse Legal Research Fellow
Shiwanni Johnson—Wayne Morse Legal Research Fellow
2019-20 Wayne Morse Law Fellows
Skye Brocker-Knapp 
Mari Galloway
Vanessa Jackson
Maddie Lorang
Katie Pitcher
Claire Regenstreif
Marika Sitz
2018-19 Wayne Morse Law Fellows
Andrew Baker
Courtney Caimona
Nicole Curtis
Casey Dreher
Abigail Gore
Kimberly Koops

2017-18 Wayne Morse Law Fellows
Anna Brady
Doyle Canning
Casey Dreher
Thomas Griffin
Emily Hajarizadeh
Weston Koyama
Kate Lemley
Aileen Santoyo
Previous Law Fellows
 
C. Michael Arnold (2000-01)
Zach Baker (2012-13)
Siniva Bennett (2011-12)
Nathan Bellinger (2011-14)
Patricia Bradwell (2003-04)
John Branam (2002-03)
Elizabeth Brown (2011-13)
Molly J. Brown (2005-06)
Franz Bruggemeier (2013-14)
Jilian Clearman (2009-10)
Nadia Dahab (2009-12)
Dina Dubson (2005-08)
Jason Dufurrena (2004-05)
Sarah Einowski (2007-09)
Karen Ellis (2003-05)
Lauren Fleming (2008-09)
Alyssa Fritz (2012-13)
Anna Friedhoff (2010-11)
Marissa Garcia (2010-11)
Jennifer Geiger (2005-07)
Will Gent (2013-15)
Erin Gould (2007-10)
Aaron Grieser (2006-07)
Tiffany Harris (2000-01)
Jason Hartz (2004-06)
Benjamin Hovland (2004-06)
Celia Howes (2002-03)
Lauren Ice (2011-13)
Aaron James (2000-01)
Autumn Johnson (2009-10)
Harriet Johnson (2016-17
Emily Johnson (2009-10)
Will Johnson (2013-14)
Drew Johnston (2010-12)
Maya Kane (2009-11)
Jeff Kane (2010-11)
Zachary Klonoski (2011-12)
Aaron Kraft (2008-11)
Gordon Levitt (2015-16)
Ryan Mann (2015-16)
Sarah Mann (2006-09)
Jona Maukonen (2001-04)
Sharia Mayfield  (2013-14)
Hailey McAllister (2012-14)
Elle McCall (2012-13)
James McCurdy (2003-04)
Jamie McLeod (2014-16)
Brook Meakins (2008-09)
Naomi Melver (2003-04)
Kathryn Moakley (2004-05)
Amy Norris (2010-12)
Matt O'Brien (2006-08)
Kristin Olson (2001-02)
Erika O'Sullivan (2014-17)
Kristen Parcher (2003-04)
Martha Pellegrino (2003-05)
Jennifer Penaherrera (2015-17)
Catriona Penfield (2006-07)
Sarah Peterson (2005-07)
Caroline Phillips (2015)
Mardell Ployhar (2005-06)
Lee Pritchard (2001-02)
Ellen Range (2007-09)
Nathan Ratliff (2002-03)
Tim Ream (2007-10)
Patricia Rincon (2013-14)
Haley Rosenthal (2012-14)
Kiran Sahdev (2008-11)
Nelly Sangrujiveth (2004-05)
David Skillman (2005-06)
Madison Simmons (2015-16)
Lauren Sommers (2003-05)
Moe Spencer (2002-03)
Christina Stephenson (2008-09)
Michael Stout (2012-13)
Kristen Thomas (2012-13)
Megan Thompson (2005-08)
Mary Van Noy (2011-12)
Zach Welcker (2007-08)
Nicole White (2010-12)
Brent Wilkins (2009-11)
Tehan Wittemyer (2003-05)
Timothy Wright (2015-17)