Program for Democratic Governance
The Program for Democratic Governance supports scholarly inquiry and educational programming on democratic institutions, behavior, and dilemmas. Begun in 2008 by Philip H. Knight Chair and founding Director Daniel Tichenor, the program is home to the Center's Public Affairs Speaker Series (PASS) and Wayne Morse Scholars.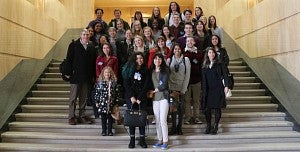 Wayne Morse Scholars
Wayne Morse Scholars is a program for undergraduate students interested in public policy, governance, and activism. All current UO students (not incoming freshman) are eligible to apply. Applications will be available in the spring. 
Public Affairs Speaker Series upcoming events
Past Public Affairs Speaker Series events
2021-22

2020-21
2019-2020
2018-19
2017-18
2016-17
2015-16
2014-15
2013-14